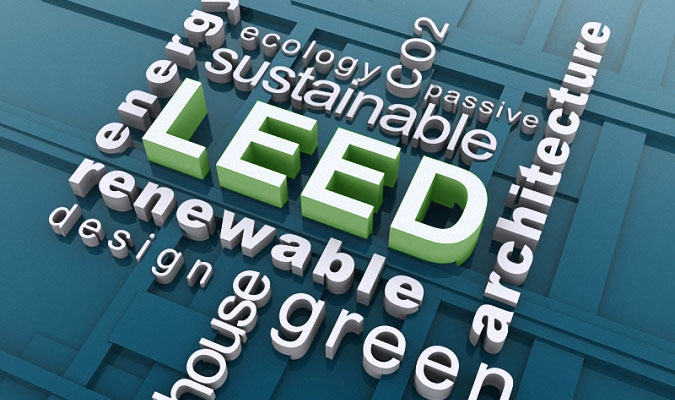 Introduction
LEED is an internationally recognized green building certification system, providing third-party verification that a building or community was designed and built using strategies aimed at improving performance across all the metrics that matter most: energy savings, water efficiency, CO2 emissions reduction, improved indoor environmental quality, and stewardship of resources and sensitivity to their impacts.
Developed by the U.S. Green Building Council (USGBC), LEED provides building owners and operators a concise framework for identifying and implementing practical and measurable green building design, construction, operations and maintenance solutions.
LEED is flexible enough to apply to all building types – commercial as well as residential. It works throughout the building lifecycle – design and construction, operations and maintenance, tenant fit-out, and significant retrofit. And LEED for Neighborhood Development extends the benefits of LEED beyond the building footprint into the neighborhood it serves.
Who uses LEED?
Architects, real estate professionals, facility managers, engineers, interior designers, landscape architects, construction managers, lenders and government officials all use LEED to help transform the built environment to sustainability. State and local governments across the country are adopting LEED for public-owned and public-funded buildings; there are LEED initiatives in federal agencies, including the Departments of Defense, Agriculture, Energy, and State; and LEED projects are in countries worldwide, including Canada, Brazil, Mexico and India.


LEED-certified buildings are designed to:
• Lower operating costs and increase asset value.
• Reduce waste sent to landfills.
• Conserve energy and water.
• Be healthier and safer for occupants.
• Reduce harmful greenhouse gas emissions.
• Qualify for tax rebates, zoning allowances and other incentives in hundreds of cities.
• Demonstrate an owner's commitment to environmental stewardship and social responsibility.
Contact Our:
Mr. Sebastian Lutz

- LEED Manager